This is a summary of new Arm Treasure Data features and improvements introduced in the September 1st, 2019 release. If you have any product feature requests, submit them to feedback.treasuredata.com.
New option: you can view a video summary of our September releases:
A New Offering: Treasure Boxes
Treasure Boxes are pre-built pieces of code for developing, optimizing, and analyzing your data.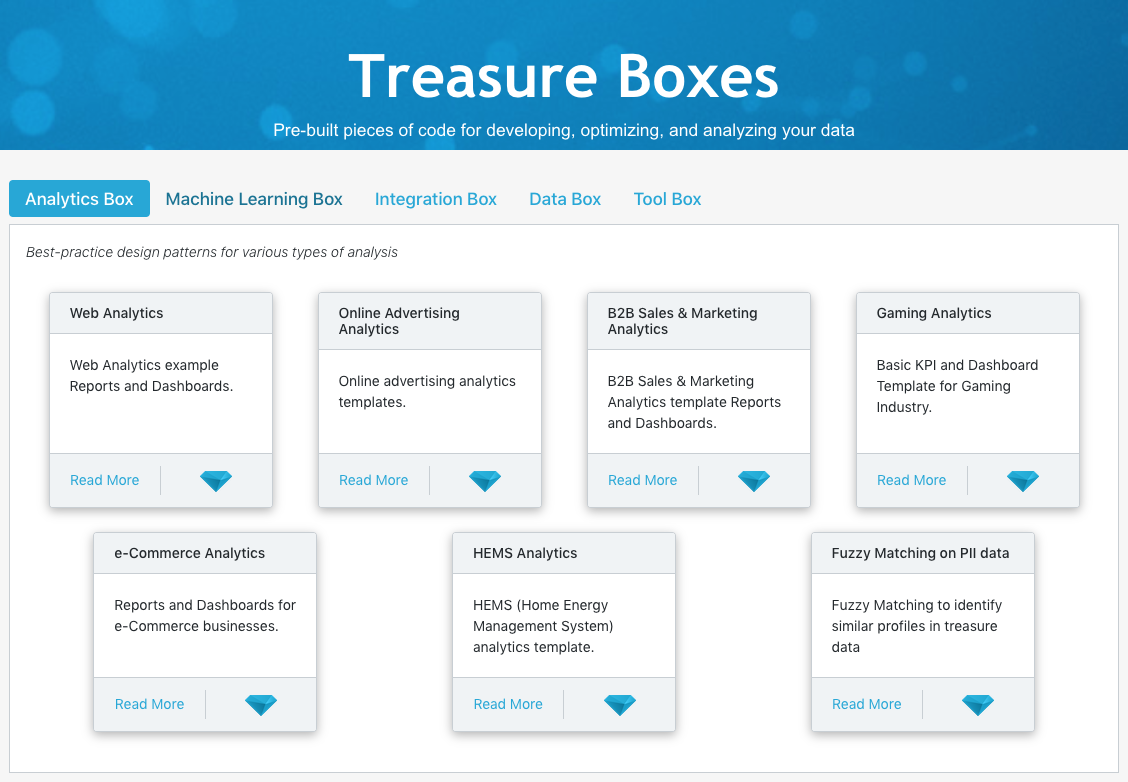 Treasure Boxes are code components in business logic, such as Web Analytics, B2B Sales & Marketing Analytics, Churn Prediction, Recommendation, Next Best Action, and so on.
Treasure Boxes enable you to access and analyze data faster and support a profusion of customer data use cases for your entire organization. Categories of Treasure Boxes include:
Analytic Box - Pre-built Analytics and Dashboard for multiple Industries
Machine Learning Box - Predictive Applications
Data Box - Data Cleansing, Validation, and Enrichment
Tool Box - Tools to enhance the usability of Treasure Data product itself
Bring your own ML: PySpark, Tensorflow, scikit-learn, Facebook Prophet Support
We now support native execution of major Machine Learning Frameworks within our product: PySpark, TensorFlow, scikit-learn, and Facebook Prophet.
Bring your own Machine Learning algorithms and models into Treasure Data and enjoy the benefits of the same security measures that we provide for algorithms and models that you develop on the TD platform. Support is available for native execution of the following frameworks:
This feature is built on top of Python Custom Scripting feature that we introduced over the past months. We plan to continuously add support features to our ML frameworks, so stay tuned.
Data Connector: Export to Snapchat (Beta)
Our new integration enables you to more easily retarget your existing users using Snapchat. You can create new segments and update Snap Audience Match segments by adding or removing emails, phone numbers, or Mobile Ad IDs from your segments.
Contact Technical Support at support@treasuredata.com to learn more. You cannot see documentation on this connector unless you participate in the beta program.
Data Connector: Facebook Ads Reporting and Custom Audience API Update
Facebook is upgrading their Facebook Graph API. Facebook Graph API v3.2 will be deprecated. Arm Treasure Data data connectors have been updated to work with Facebook Graph API v3.3:
Data Connector: Google Search Analytics Input Improvement - Add Search Type Filter
In order to ingest data by search type (Web/Image/Video), a new filter Search Type is added with the default value: web.
Also a new column name: search_type is added to your job result, supporting the Search Type filter. There was no data patch for existing data, however, you can see the new column search_type added when new data is appended to an existing table. For more information, see Data Connector for Google Search Analytics.
Wait, there's more... Audience Studio User Experience Improvements
Last month, we announced improvements in the Profiles view that include:
New table layout with column filtering

New column to show campaigns associated with profile

New charts for Page Views and Duration in Minutes
This month, we announce improvements in the Segmentation area of Audience Studio.
Segment Nav Link:

allows you to click out to an existing segment within the segment rule editor. You can see the rules that are used by the nested segment.

Segment SQL Output: allows you to view the SQL used when created a segments so that you can validate the segment that the SQL created.
Also coming later this month:
An easier way to view information about segments, such as a listing of segment names, folders in which segments are contained, the number of profiles and activations associated with segments
Collapsable folders and panels, giving you more control over your view space
Segment Line Chart, showing the number of profiles over time
Summary views for Rules and Activations
Required Migration: Salesforce Data Connector
The deadline to migrate to the Salesforce V2 data connector has been extended. The legacy SFDC connector will be available until September 30, 2019.
The Salesforce V2 data connector is capable of asynchronous data transfer - with minimal impact to current users.
The Salesforce V2 data connector replaces the current Salesforce data connector. In TD Console, the existing SFDC connector is now labelled "Salesforce Legacy" and the V2 data connector is labelled "Salesforce."

If you are currently using the Salesforce data connector, you must complete migration steps to ensure that your integration continues to work. You must move from the legacy Salesforce data connector to the Salesforce V2 data connector.
New users of the Salesforce data connector can start using the Salesforce V2 data connector immediately.
Contact your Technical Support at support@treasuredata.com to learn more.
Support for REST API: Salesforce Data Connector
The Salesforce v2 data connector adds a use_rest option, which enables you to use the Salesforce REST API. Use of the REST API provides an alternative to Bulk API and the hard limitation of 10k batch allocations that can make it difficult to ingest more than 7-8 million records into Treasure Data in 1 day.