We have a new docs home, for this page visit our new documentation site!
Set your plans and prepare your environment to efficiently and effectively manage your customer data. The Arm Treasure Data platform, and in particular Audience Studio, offers features that support your work role.
Audience Studio is available only to TD customers who have purchased the feature.
In addition to this article, refer to our CDP Readiness Checklist for more ways to prepare your environment and team to use Treasure Data to maximize the benefits of your collected customer data.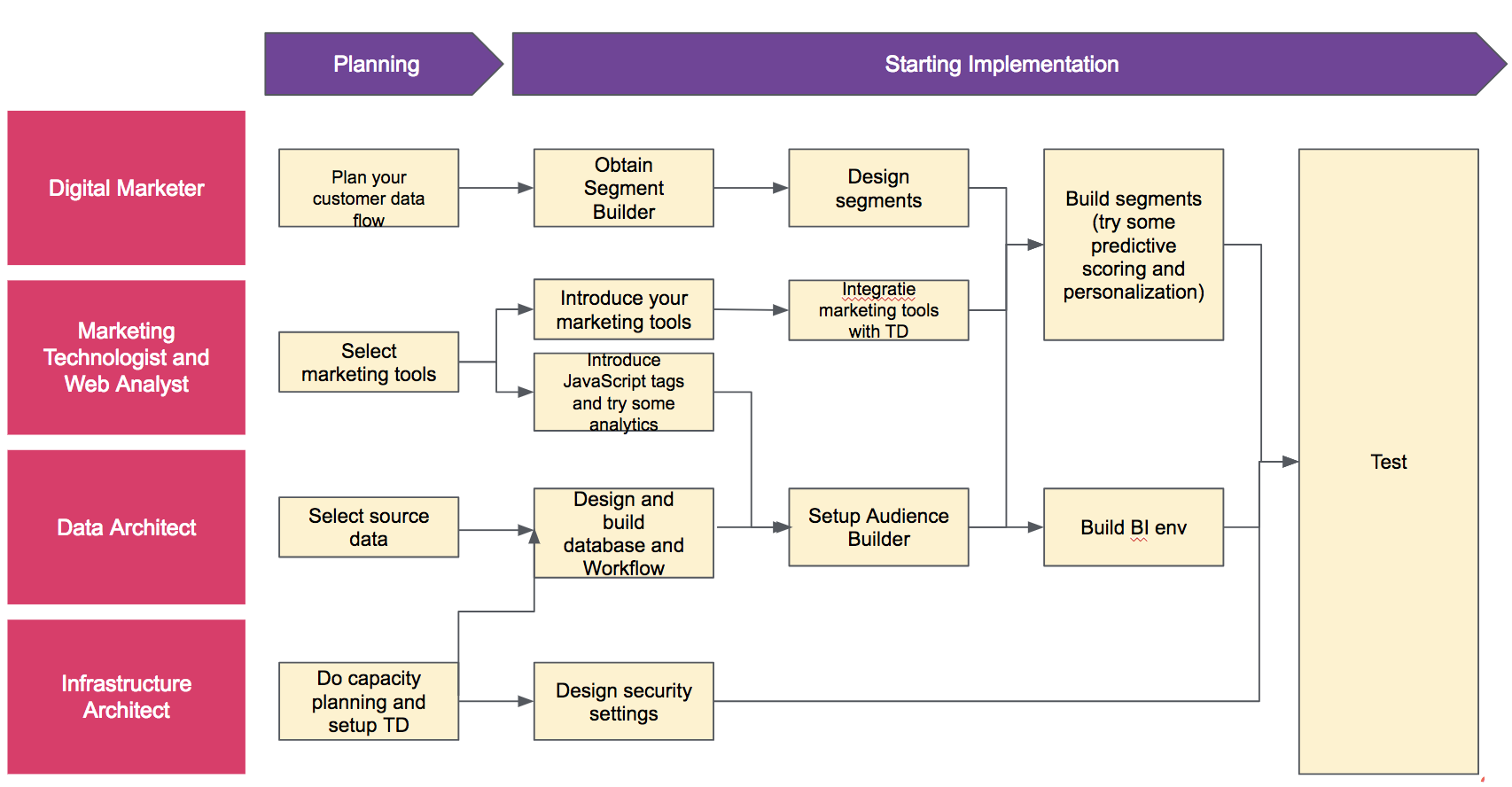 Roles and Activities
Your work role affects how you plan and prepare to use the Treasure Data Platform. Depending on your job, you might use different part of Treasure Data's platform.
Digital Marketer
Plan your customer data flow

Determine the customer attributes and characteristics that you want to capture and analyze. Then set a plan for how you can use the data. For example, you might want to group all users that access particular web pages and perform particular actions. You might want to plan for campaigns for that particular segment of users.

Obtain Audience Studio > Segments

Add Audience Studio to your Treasure Data account.

Design and Build Segments

You then can review customer profiles, create segments, and apply predictive scoring to segments. You can then use profiles API to activate personalization in messaging, campaigns, or other actions that you want to apply to your segments.
Marketing Technologist or Web Analyst
Select marketing tools

Determine the applications that you want to enable to the Treasure Data platform.

Introduce your marketing tool to the Audience Studio

You can use our integrations to receive data from or send to your marketing application.

Try JavaScript attribute tags

Add JavaScript tags to your web pages. Experiment with the collected information. Work with your Data Architect to create a data model and work with your Digital Marketer to determine the attributes that would contribute to the most effective segments.
Data Architect
Select source data

Align use cases with your Key Performance Indicators. The more clearly you can define the desired business outcomes, the clearer your understanding of data that needs to be collected. Work with your team to determine information needs and potential sources. You can use our integrations to bring data into the platform.

Design and build your database and workflow

The master segment database serves as the data model for your customer data and workflow is used for the efficient collection, processing and management of the data.

Setup Master Segments

Master Segments is a user interface and enables you to manage, unify, consolidate, organize, and link data from all your Treasure Data tables. Master Segments is structured to process attributes, characteristics, and other data about your customers. From Master Segments, you can generate a view of customer profiles and segments.

Build BI Environment

Master Segments, Treasure Workflow, and Treasure Data's processing engines (Hive and Presto) are at the core of your business intelligence environment. Determine the configuration of your system. With a schemaless database, you are not restricted by data types. Our UI makes it easy to move from importing data to creating queries against the data to making the data part of a workflow or data model.
Infrastructure Architect
Capacity planning and setting up Treasure Data

You might already have several data systems. Determine how to bring the data from these systems into Treasure Data for integration, management, and processing. Assess the volume of data that you'll be processing to determine the best plan for you.

Design security settings

Define your security plan. Use utilization dashboards, audit logs and permissions to protect and control your TD account. You can restrict users and control use of resources.