This content is no longer updated. For the most updated content, visit our new documentation site!
Arm Treasure Data offers a cloud-based analytics platform for customer data and for management of data for the Internet of Things (IoT). Our platform delivers continuous data integration of end-to-end data pipeline data through easily accessed interfaces.
Using our seamless interface, you can bring in raw data or other types of data from various sources, you can run queries against the data, set up workflows to manage the data, and create data models from your customer data. You can segment your customer data and export your data for use in campaigns or to be further enhanced by other vendor applications.
The Challenge
Overabundance of data is now a ubiquitous problem across all departments and industries. Due to the proliferation of smartphones, social media, and device sensors, data is increasing exponentially both in terms of volume, velocity, and variety.
Businesses today are trying to find valuable insights from their data, but face challenges:
Siloed customer data. For marketing and product to deliver optimized user experiences, companies must have a single, unified view of each customer
Leveraging data from IoT devices, IT organizations are tasked with managing the scale of data and look to reliably collect and analyze
Getting that data to the right person or system, with timeliness that ensures maximal impact
Treasure Data meets the challenge by providing unified customer data — on both behavior and attributes —- and an infrastructure that robustly scales without needing to hire an ever larger team of infrastructure engineers. Treasure Data enables companies to deliver the right experience at the right time.
Collect, Explore and Activate Data
Using the Treasure Data platform, you can query and enrich the data, build workflows that orchestrate complex processes, and deliver transformed results in a variety of formats to data stores and applications on premise or in the cloud. You can focus on your data analytics, while letting Treasure Data manage server scaling, storage, infrastructure, and security.
The Treasure Data platform offers:
Instant setup.
Infinite cloud storage capacity, with high availability.
Easy to use, and does not require deep knowledge of "Big Data" technologies. You focus on your data and analytics instead of cluster management.
Elastic resource allocation that can be scaled up or down at any time.
Ingestion Flexibility to your existing data sources and analytics applications without architectural changes. Including connectivity to the large swath of Marketing and Business SaaS applications and tools.
Activation with Ease Connect directly to BI Tools for reporting, marketing and sales tools for delivering insights to team members in the field, or use our Profiles API for optimizing experiences in your IoT or Marketing experience in real-time.
Treasure Data is performance-optimized and secure.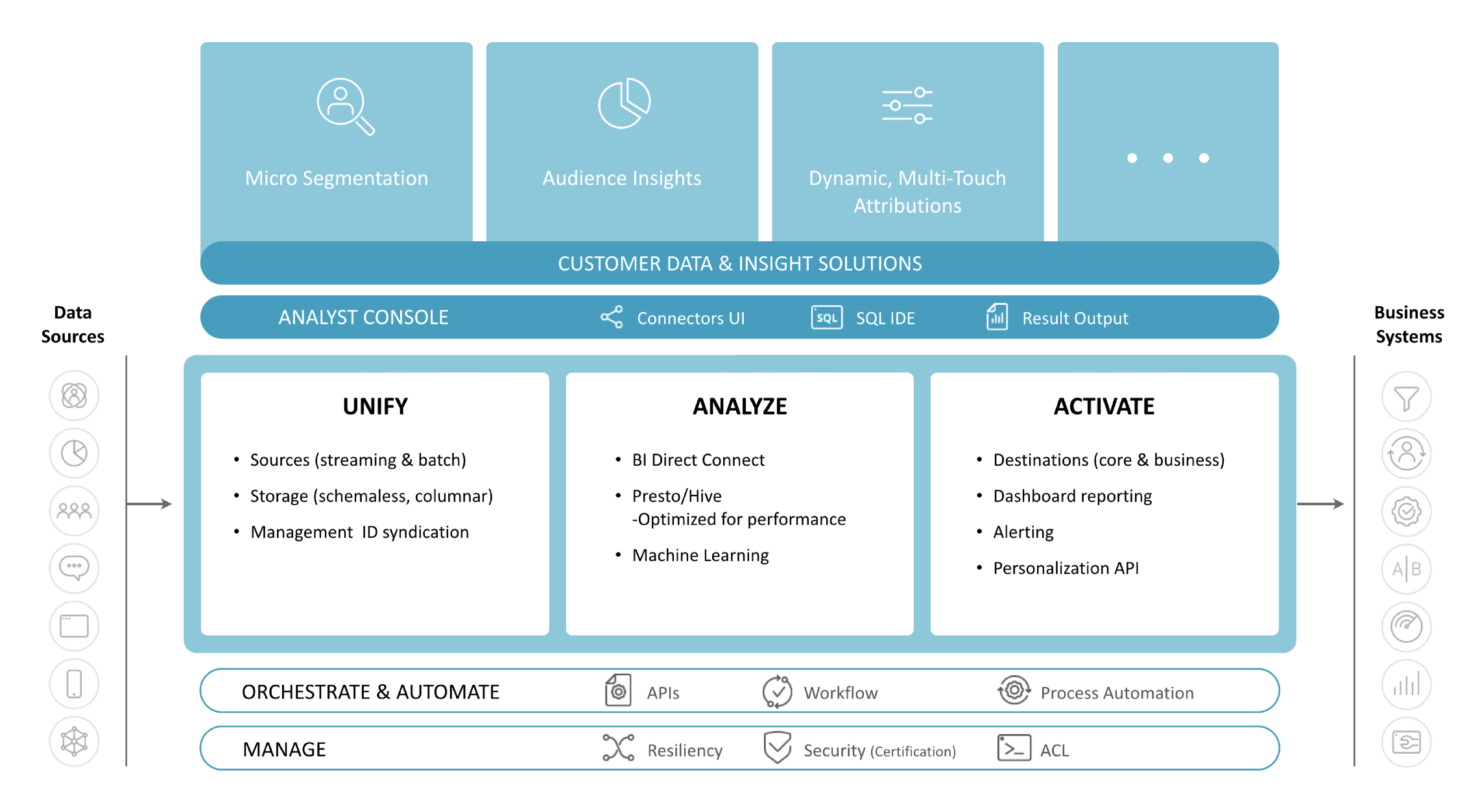 Unify
Access and ingest your data from new and traditional sources. For example, ingest from mobile, web, CRM, and point-of-sale systems into a schema-free data representation that enables data to be communicated and used by various business units across the organization.
Or, you can ingest from your streaming data sources for real-time collection, such as website and mobile applications and IoT devices. You can use our collection tools that work reliably at scale (Those tools work to ingest over 1M events every second).
Also, ingest from data sources that collect data with batch processes, such as production databases, CRM SaaS tools, and Point of Sales systems.
Analyze
Leverage our machine learning and query engine to uncover insights that were previously hidden by the complexity of the data pipeline. Or transfer your data seamlessly into systems of your choice, such as data science tools, business analytics tools, and CRMs.
Activate
Put analysis to work in real-time by creating orchestrated workflows that leverage extensive integrations and provide services, such as customer audience profiling.