Using Tableau Desktop on Mac with Arm Treasure Data allows users to interactively explore data using Presto.
Prerequisites
Mac OS 10.12 or later
Tableau Desktop for Mac v10.5 or later
Install ODBC Driver for Mac
Visit https://www.tableau.com/support/drivers.
Follow these steps to install the Mac driver for Presto:
Close Tableau Desktop.
Download the driver from the Download link.
Click the downloaded file.
Double-click the Presto .pkg file to run the installer.
Accept the defaults.
Open Tableau Desktop and connect to Presto.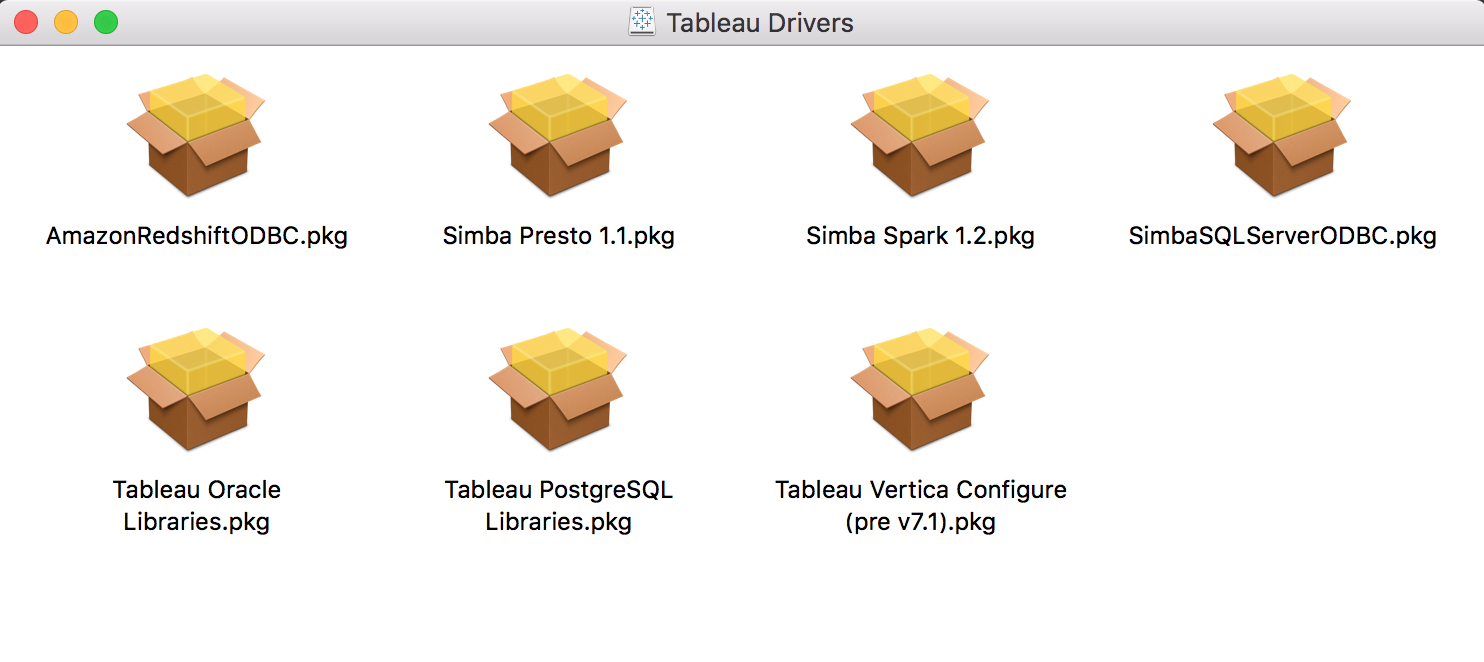 Make the connection
Start Tableau. Click Connect > Presto.
For a complete list of data connections, click To a Server > More.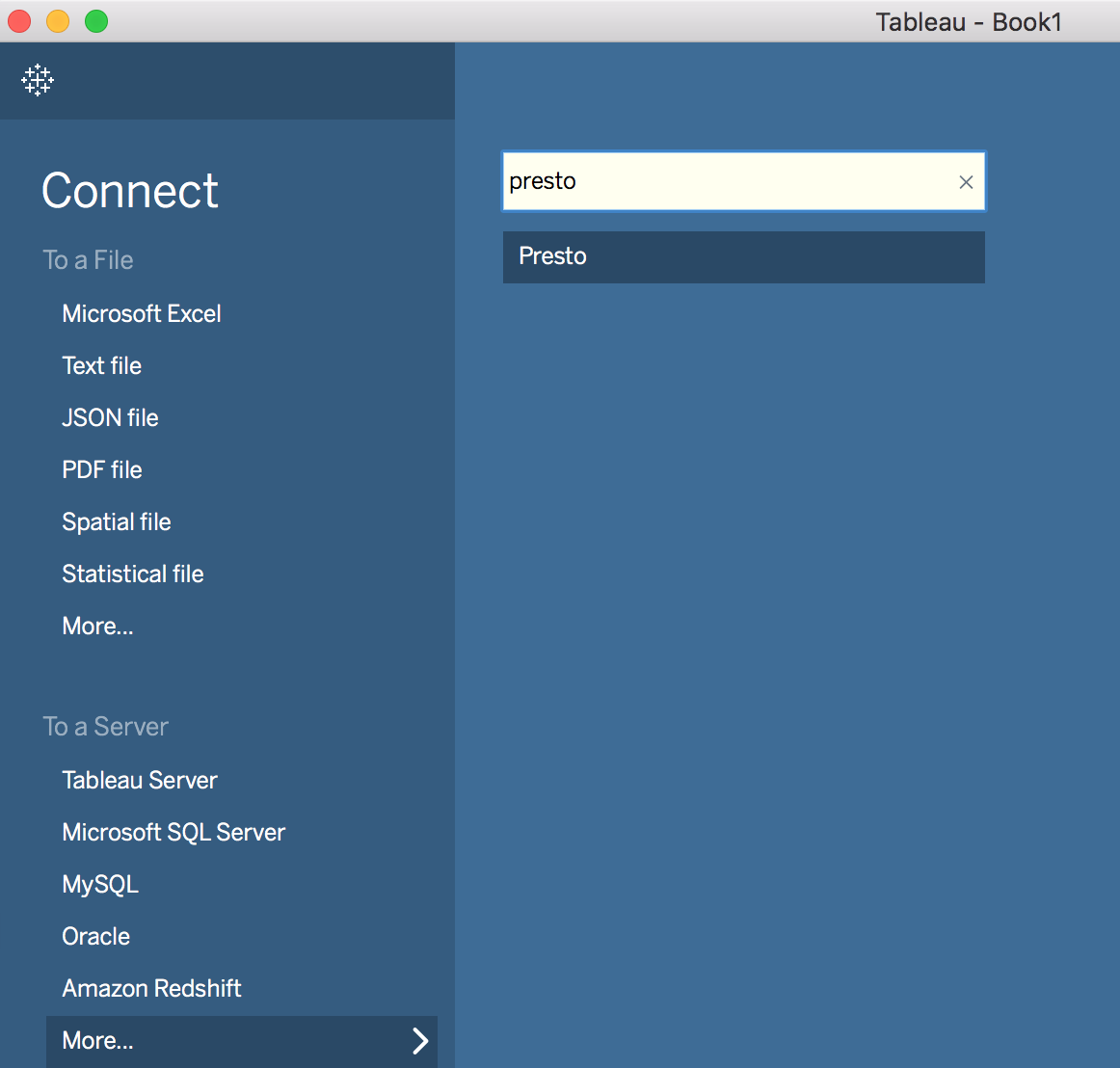 Then complete the following steps:
Enter Presto JDBC/ODBC Gateway server: api-presto.treasuredata.com
Enter the port: 443
Enter the catalog name; td-presto
Select the Authentication method: Username
Enter the Username: Use your master APIKEY (Ref. Get APIKEY
Select the Require SSL check box.
Select Sign In.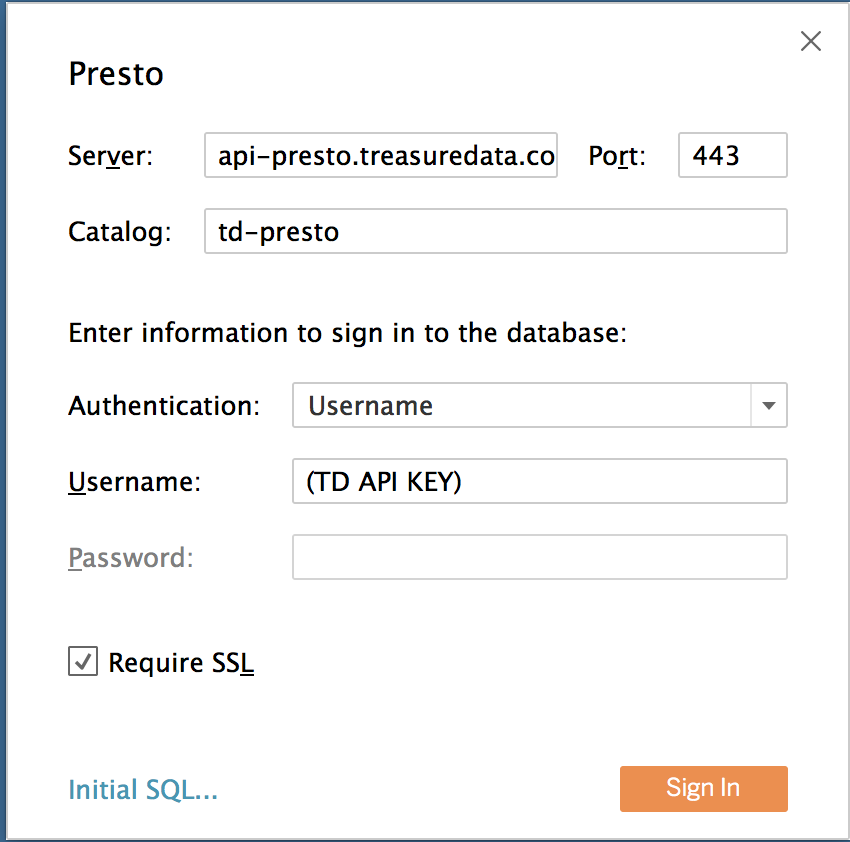 If Tableau cannot complete the connection, verify that your credentials are correct.
Setup the data source
On the data source page, complete the following steps:
Select the default data source name at the top of the page, and then enter a unique data source name for use in Tableau.
From the Schema drop-down list, select the search icon or enter the schema name in the text box and select the search icon, and then select the schema.
In the Table text box, select the search icon or enter the table name and select the search icon, and then select the table.
Drag the table to the canvas, and then select the sheet tab to start your analysis.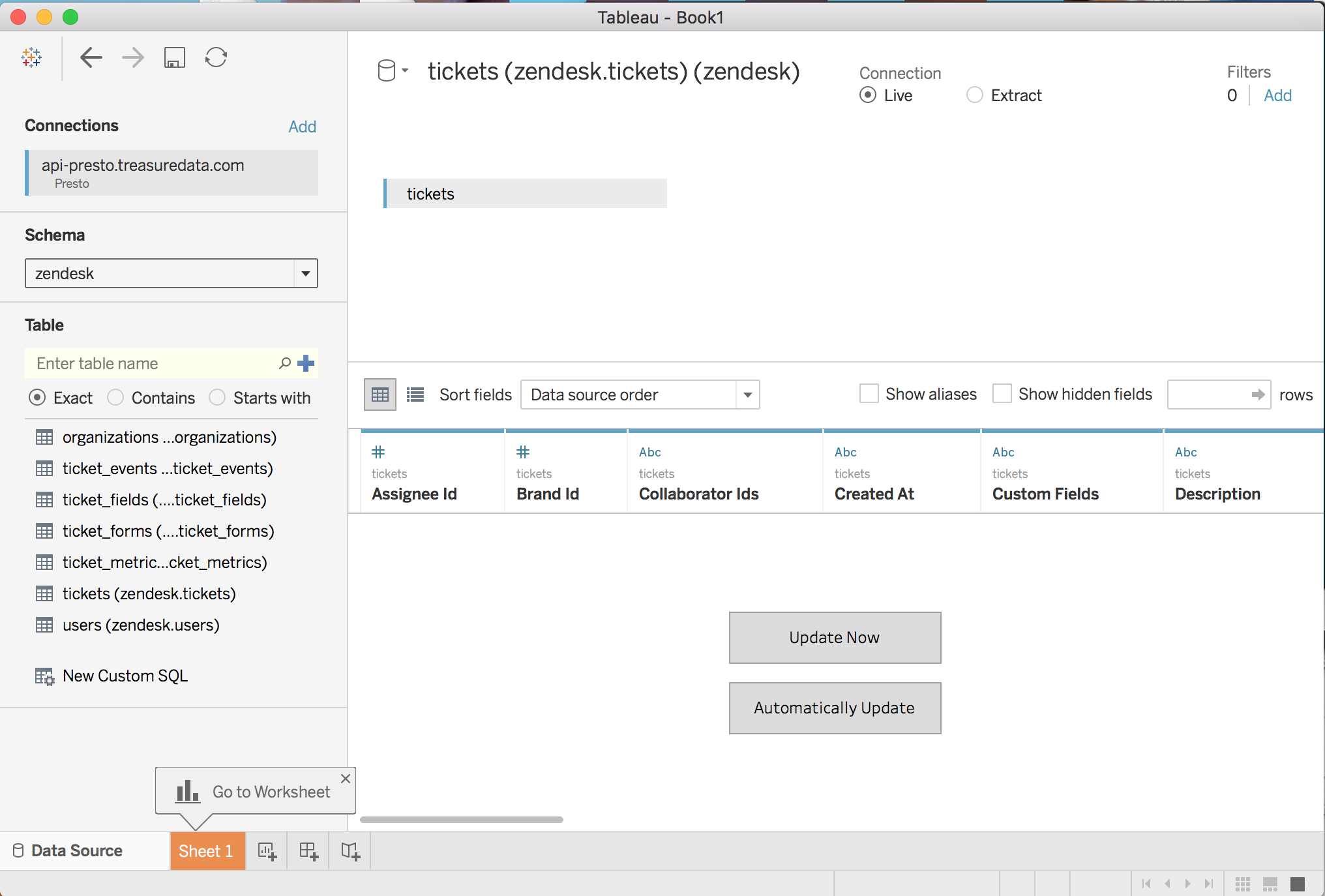 Advanced Tips
Change time column's Data Type to "Date & Time
After connecting to the table, you'll find a "time" field in "Measures". "time" field is unixtime data as a default. You can drag and drop the time field data to "Dimensions" and change the data type to "Date & time":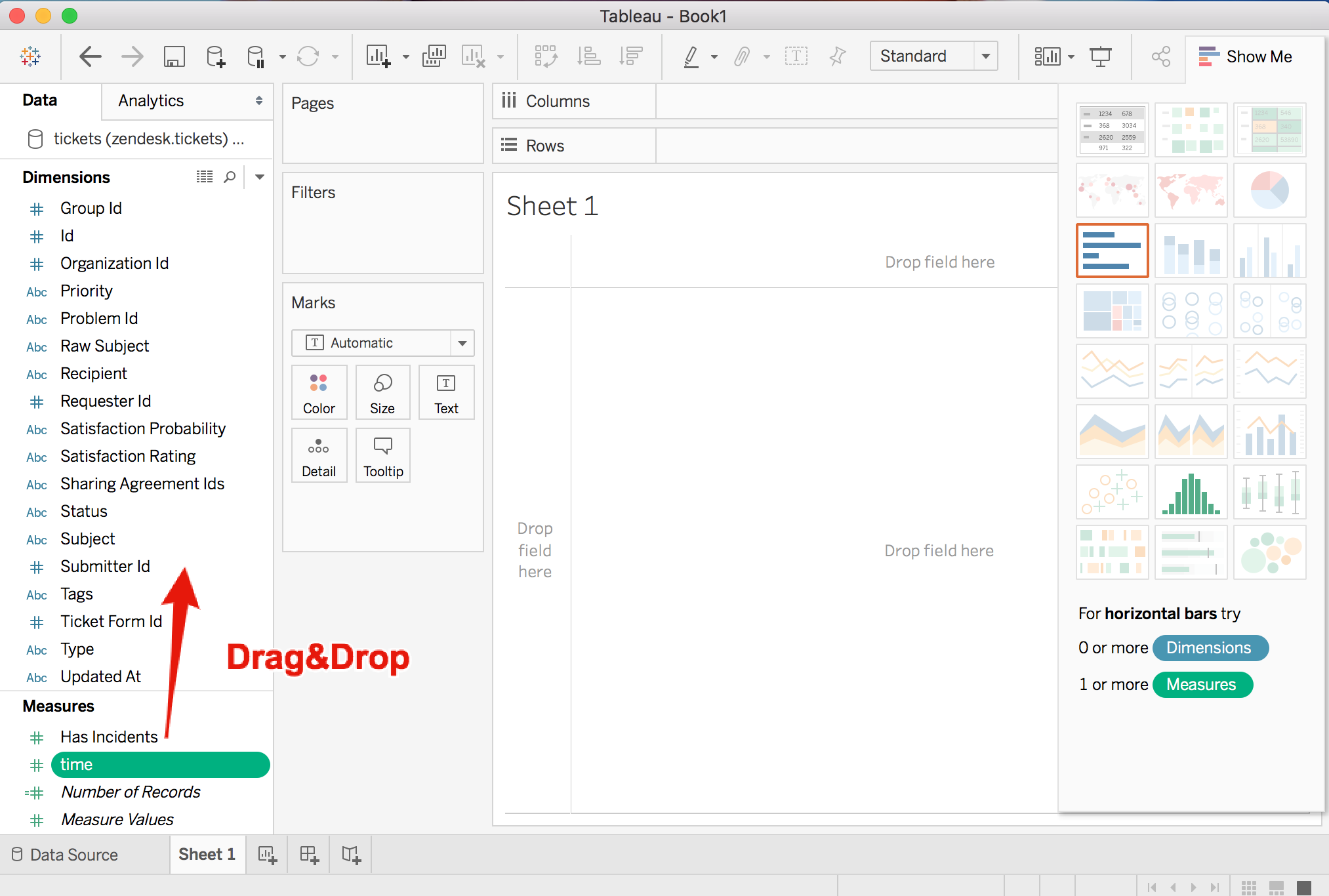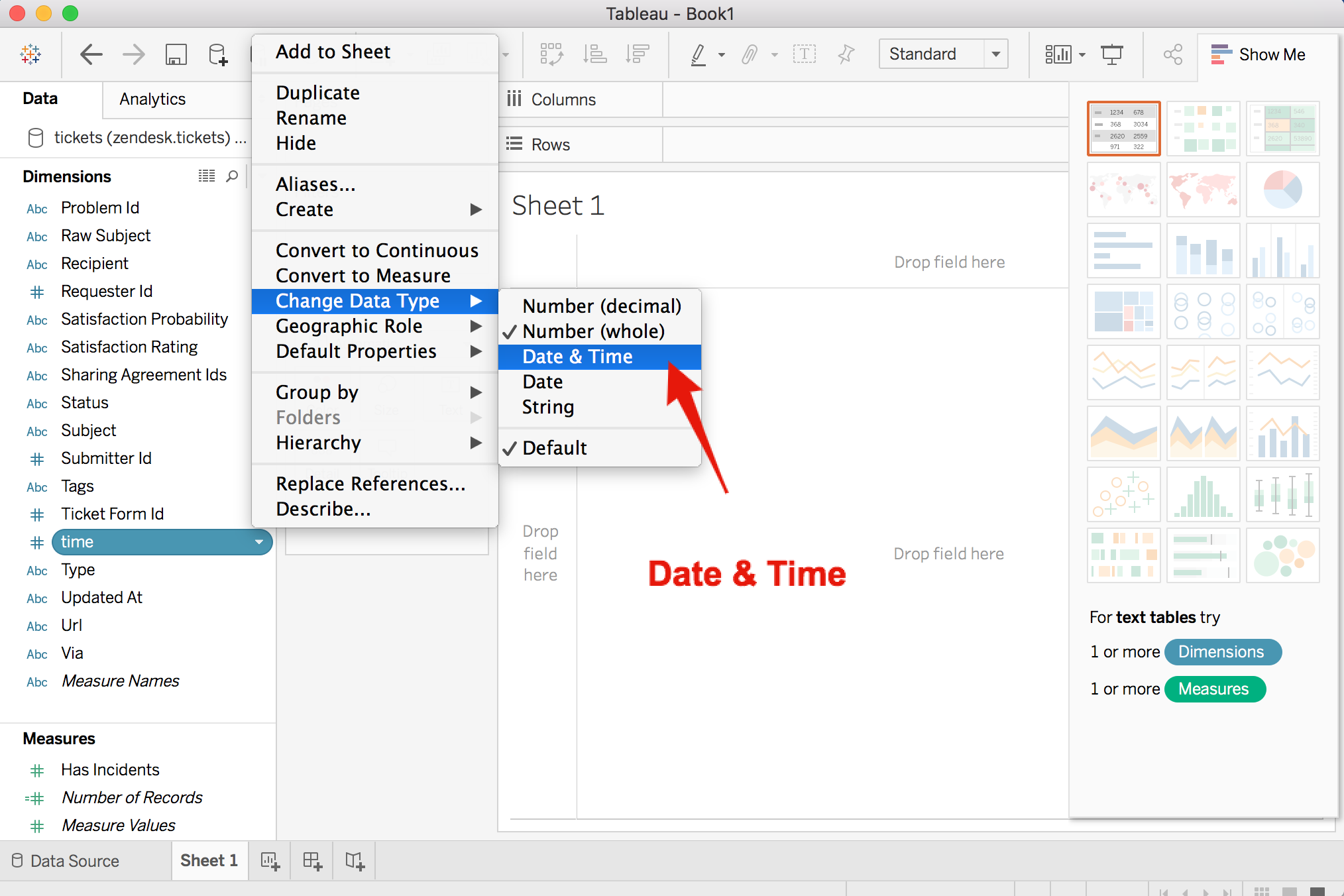 Limitations
Potential Risk at Presto upgrade
Compatibility between the Presto and Tableau ODBC package isn't guaranteed when Treasure Data Presto is upgraded. We recommend that you use Result output to Tableau for production systems because the connector requires regular update of data sources.